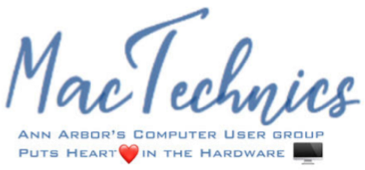 What is MacTechnics?
MacTechnics, the Ann Arbor Computer Users Group, is one of the largest Apple User Groups in Michigan and is comprised of all types of Apple users from novice to professional. Formed in the Fall of 1984, MacTechnics' goal is to expand computer literacy in an interesting and entertaining way.
Interesting Fact About Us
MacTechnics has been serving the community for 39 years.
Virtual Meetings
All of our face-to-face meetings are being converted to online sessions. This includes educational sessions, trainings, Q & A hands-on help sessions, presentations, videos, watch & discussion parties, individual one-on-one discussions, small group information sharing, and more. The new updates are being revealed over time.
Free Zoom Book
This book in the Take Control series is called Take Control of Zoom Essentials. It's a FREE book. It is available in a few formats such as PDF or as an ePub or as a Mobi. You can view on your computer or iPad or Kindle.
Why Join a User Group?
User groups offer many benefits – regardless of your skill level and interest level.
Make new friends.
Meet people who share your interests and passions.
Get support and enhance your skills.
Teach.
Save money.

Find local resources.
Make business contacts.
Volunteer in the community.
Tell the world.
It's just plain fun.
There's something about user groups that makes members come back time and after time. They love it. They love the people they meet and the opportunities that user groups create. Being a user group member is just plain fun.
Our Vendors and Supporters are extremely generous !
Support them throughout the year
Let's Work, Learn Together!
Let us know what's on your mind, what help you need, or what you'd like to share.
NEW Center Masking Plan (Building Updates and COVID-19)
Based on County and State wide decreases in cases, NEW has decided to adopt the "Mask optional" plan. While in the NEW Center we ask you to please be respectful of others' space and health and that you would mask up if you're feeling a bit under the weather. We use the word plan in lieu of policy as plans can easily change. With that in mind, please note that we will be monitoring COVID-19 cases as they ebb and flow to determine if this plan is still the best option to keep folks safe and comfortable.